Here at Chadron Federal Credit Union, we are commited to serving our community by providing excellent financial services. We are not for profit, not for charity, but for service. We are dedicated to helping you reach your financial goals. If you wish to see how we can improve your banking experience, or are currious to learn more about us and what we do, visit our office or look around our website! Anyone who lives, works, worships, attends school in Dawes, Sheridan, and Sioux Co, or any employee of the Union Pacific Rail Road (western division), qualify for membership! You can also qualify for membership if a current family member is currently a member of Chadron FCU.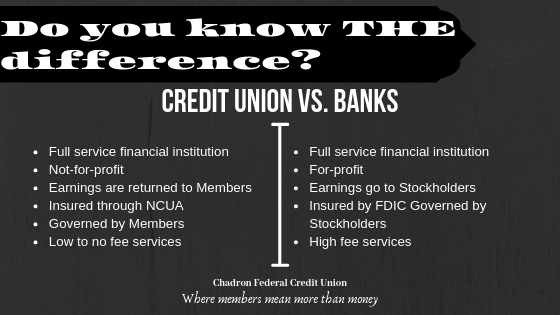 Do you know the difference between banks and credit unions? Both offer similar financial products, that is the only thing they have in common. Recently, the state of Nebraska has become involved in the competitive finance industry as banks are pushing to have control over credit unions who attempt to expand into communities dominated by banks. Please educate yourself on THE difference between credit unions and banks.
You can learn more about credit unions vs. banks by looking for news articles in your local newspapers.
---

Click on the image above to see a full list of rates and CD options
---

Sign up for E-statements
Chadron FCU offers E-statements! Generally, paper statements can take up to two weeks to reach members. E-statements are a free service designed to get members their statements faster! Simply elect to receive your statements via E-statements and you will receive your statements in the first few days of the month!
Click here to learn more.
---
Contact Us
At Chadron Federal Credit Union, our members are our first priority. If you have questions or concerns, we want to know. Please contact us using one of these methods:

To report a lost or stolen card:
During business hours call: 308-432-2588
After hours/weekend/holidays call:
Go to main navigation